The Project
The Walter Scott Minstrelsy Project is a joint project run between the Johannes Gutenberg University Mainz and the University of Edinburgh with the aim to establish the first historical critical edition of Sir Walter Scott's Minstrelsy of the Scottish Border.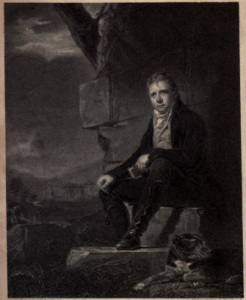 Walter Scott's Minstrelsy of the Scottish Border is a landmark in the history of Scottish culture and literature. It was first published in 1802 in two volumes, followed by a third in 1803. There were five editions during Scott's lifetime between 1802 and 1830, and another in 1833, shortly after his death. The most recent edition, edited by T. F. Henderson, appeared for its centenary in 1902 . There has never been a critical edition of the Minstrelsy.  However, thanks to the Minstrelsy of the Scottish Border project, a critical edition will be available from 2014.
Having been launched in 2011, the project will run for around three years and is co-funded by the DFG and the AHRC.
This website is the education complement to the academic website www.walterscott.eu, where you can find details of the people involved.