Lord Maxwell's Goodnight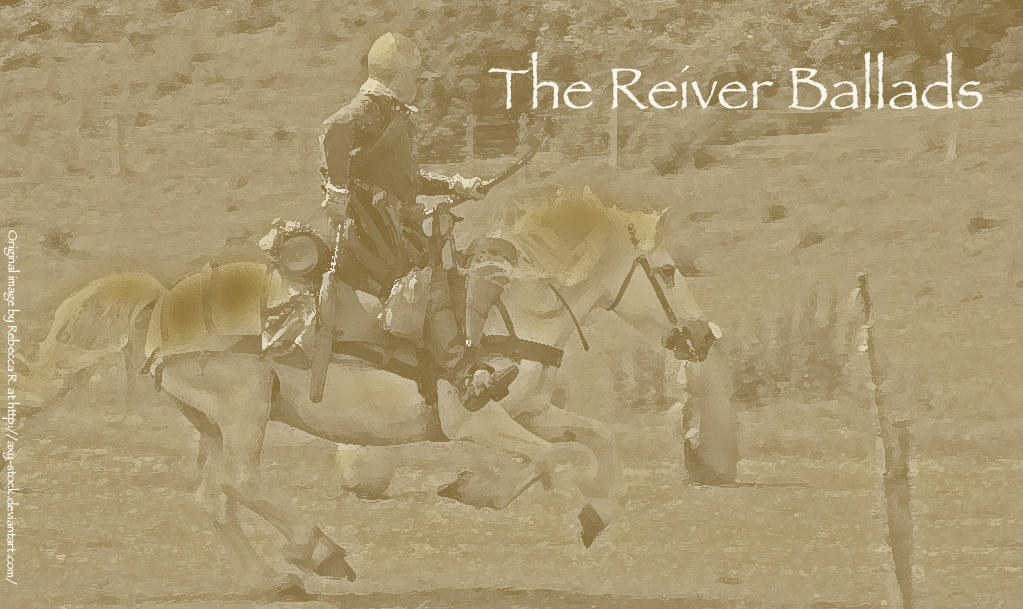 "Lord Maxwell's Goodnight"  was included in the Minstrelsy from the 1st edition of 1802, and appears in all the editions covered by this project. It is the 16th ballad in the 1802 edition.

This may appear more like a song, rather than a traditional ballad. On first glance, it seems to have a different verse structure and it does not employ any formulaic language that can be associated with traditional ballads. However, the layout in the Minstrelsy of the Scottish Border is merely an 8-line verse, rhyming abcbdbeb, and could also be considered as two 4-line verses. The tone is very much like the other reiver ballads, with the hero of the piece unrelenting in his stance and vengeful to the end.
History
This ballad refers to John, 9th Lord Maxwell, and contains reference to one of the most bitter feuds which ever existed in Scotland. The Maxwells and the Johnstones, both inhabitants of the Scottish West March, had been enmeshed in a brutal power struggle, which last for many decades and which was responsible for hundreds of deaths. Both families had enjoyed the status of Warden at various times, and used the power to their best advantage against the opposing family.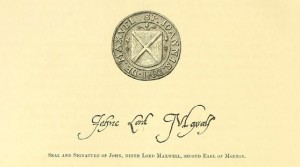 It is uncertain when the feuding  began, but it was certainly apparent in 1528, when Lord Dacre commented upon it to Cardinal Wolsley. However, what is certain is that it came to a climax with the Battle of Dryffe Sands, the last large-scale battle fought on the Borders by Borderers. It was a desperate affair, with the Johnstones, who had suffered the worse of the feud over recent years, gathering any numbers they could: one of their riders was 11 years old.  Thomas Scrope, the English West March warden, wrote to Lord Burghley on the 7th December 1593, explaining what had occurred the previous day:
" Such newes as are credibly advertished unto me furth of Scotland, towching the combers and truble areasen betwixt the Lord Maxwell and the Larde Johnston, I have thought good to signify unto yow. Yesterday in the afteruone, the Lorde Maxwell with a great force of his frendes, did assemble them selves together, and assaye the dimolishing and casting downe of one Mongo Johnston his howse at Lockerbye : where the Larde Johnston having called together his frendes, did incounter with the said lorde Maxwell, and haith not only kilde the sayd Lorde Maxwell himself, but verie many of his company. And that as I heare without any great harme to the larde Johnston or his frendes." Carlisle. Signed : T. Scroope.Addressed. Indorsed: "7 Dec. 1593. L. Scroope to my L., advertisinge Maxwels death, slaine by the Larde of Johnston."
The battle had been vicious, and it said to have been the Laird of Johnstone who knocked the armoured Maxwell off his horse and then slashed off his right hand, when he held it out in surrender.
This act was roundly condemned by the King and parliament. Maxwell had his lands forfeited, his armorial bearings were broken apart in parliament. Having fled into exile, Johnstone was condemned to death in his absence, for this murder, plus other killings and an escape from Edinburgh Castle, where he had been imprisoned for challenging the Earl of Morton (William Douglas) in Parliament. He returned to Scotland in 1612, and attempted a reconciliation with the Johnstones, but he was arrested and beheaded in Edinburgh in 1613.
Johnstone's memorial stone note only records the lord's life, but also the treacherous nature of his death, and part of the punishment meted out on Maxwell. A copy of the stone  can be viewed here.  It is a fine example of a memorial which also has a political purpose.
The ballad focuses on the moment of Maxwell's fleeing Scotland: "Goodnight" can also mean "farewell". As well as refering to specific individuals, the character of Maxwell also names several towns and towers, which were under Maxwell control or ownership.
 The Characters
Lord Maxwell (John, 9th Lord Maxwell c. 1586-1613)
John, 9th Lord Maxwell, led a turbulent life. He inherited the title on upon his father's death at the Battle of Dryffe Sands. Among other titles he held, he was also heritable Keeper of Lochmaben Castle, heir to the lands of Duncow, Keir, Tinwald and Broomholm, Steward of Kirkudbright, Keeper of Thrieve Castle and Bailie of Sweetheart and Drundrennan. Several of these are mentioned in the ballad. He was married, to Lady Margaret Hamilton, the only daughter of the Marquis of Hamilton. The marriage was arranged while Maxwell was in his minority, and was not a happy one: his wife died during divorce proceedings. He seems to have exercised ongoing enmity against the Johnstons – being a prime mover in have Sir James Johnston of  Dunskellie arrested in 1599: Johnston was released the following year and returned to office of West March Warden. The Maxwells were staunchly Catholic and this also brought them into opposition with the crown. Maxwell was imprisoned in Edinburgh Castle for keeping to his religious faith, but escaped. He went into exile in 1609 after the murder of the Laird of Johnston, but returned, without any pardon or licence, and was forced to live as a fugitive. He was betrayed, captured and imprisoned in Edinburgh, where he was executed by beheading on the 21st May 1613.
Maxwell's Lady
When he was around twelve years of age, John Maxwell was betrothed to Margaret Hamilton, the daughter of John, Marquis of Hamilton. The marriage contract was recorded in 1598. It was not a happy marriage, and the lady died during divorce proceedings. The facts are scarce, but there are hints here and there of  cruelty. Her brother, the 2nd Marquis of Hamilton, became an intractable enemy of Maxwell's, and was one of the parties who refused to treat with any settlement during his trial for the murder of Johnstone. The offers of the lady to support her husband before he had to go into exile are fictitious, as all evidence suggests that she was already dead: the main point of evidence being that a proposal was set forward that, to avoid more bloodshed, the daughter of the dead Laird of Johnstone should be married to Lord Maxwell, without tocher. The proposal was rejected.
Robert of Orchardstane

Sir Robert Maxwell of Orchardtoun
 (died c. 1615)
Robert Maxwell of Orchardtoun was a cousin to Maxwell, through the Herries/Terregles line, and was the second son of Robert Maxwell of Spottes. He was married to Sarah / Sara, sister of Sir James Johnston, Laird of Johnston. He was present when Johnston was murdered, and gave evidence at the trial.
Lord Johnston (d. 1608 )

Sir James Johnston
Sir James Johnstone of Dunskellie was murdered in 1608. There were five men present in all: Sir James Johnstone, William Johnstone of Lockerbie, Sir Robert Maxwell of Orchardston (Johnstone's  brother-in-law), John, 9th Lord Maxwell and his attendant Charles Maxwell. It had been intended, by Orchardston at least, to be a peaceable and reconciliatory meeting, but while the lairds were in discussion or debate, Charles Maxwell turned on William of Lockerbie. Johnstone rode towards the men to defend his attendant and was subsequently shot in the back by Maxwell. There had been simmering enmity between the Johnstones and the Maxwells for years, but the Battle of Dryfe Sands in December 1592  had brought everything to a bloodied climax. The 8th Lord Maxwell was killed there, brought down and hacked at by Johnstones (though who killed him is matter of tale and tradition). The Johnstones may have won the day, but their stand had been desperate, with Johnstone of Raecleuch's 11 year old son brought to the fight, and their losses may well have been great. The Johnstones who fought there were immediately declared outlaws, but gained respite from this charg in the years following the Battle – the Laird of Johnstone declaring that he only had eight-score surviving followers in 1594, which suggests that many died at Dryfe.
Drumlanrig
James Douglas, 8th of Drumlanrig (d. 1613)
At the time of Maxwell's exile, this title belonged to James Douglas , 8th of Drumlanrig, and had inherited his title in 1578, on the death of his grandfather (his father having died prior to the 7th Laird's death).
The Douglases  were a dominant family, although in decline, which fell in and out of favour with the crown throughout the 1500s.
Although the two earliest printed sources, which give an account of Dryfe Sands (Johnston's MS and Spottiswood), give different accounts of how Maxwell killed, there is an indication was abandoned by his own supporters in the heat of the battle. This may have been through the Johnstons' effective tactics. However, the ballad accuses Drumlanrig, Lag and Closeburn of active desertion.
The Laird of Lag

William Grierson of Lag (c. 1567 – 29th Jan 1629) 
The Grierson family were known to have supported the Douglases and also the Maxwells – suggesting a politic stance may have been taken. Grierson of Lag fought at Dryfe Sands, but escaped with his life. As noted above, only the ballad accuses the Laird of Lag of active betrayal of Maxwell at Dryfe Sands.
Closeburn

Sir Thomas Kirkpatrick, Laird of Closeburn. (Succeeded his father to the title in 1584. Died c. 1612)
Closeburn was related throguh his second marriage to the Maxwells of Herries of Terregles. He fought at Dryfe Sands, and escaped with his life. As noted above, only the ballad accuses the Laird of Closeburn of active betrayal of Maxwell at Dryfe Sands.
Places
Like many of the reiver ballads, "Lord Maxwell's Goodnight" contains a number of references to locations. These places were under the control of Maxwell, through inherited or assumed titles. Many were lost tot he Maxwell's during the time that Maxwell was a fugitive. When the title was restored, most lands were also recovered.