Hobbie Noble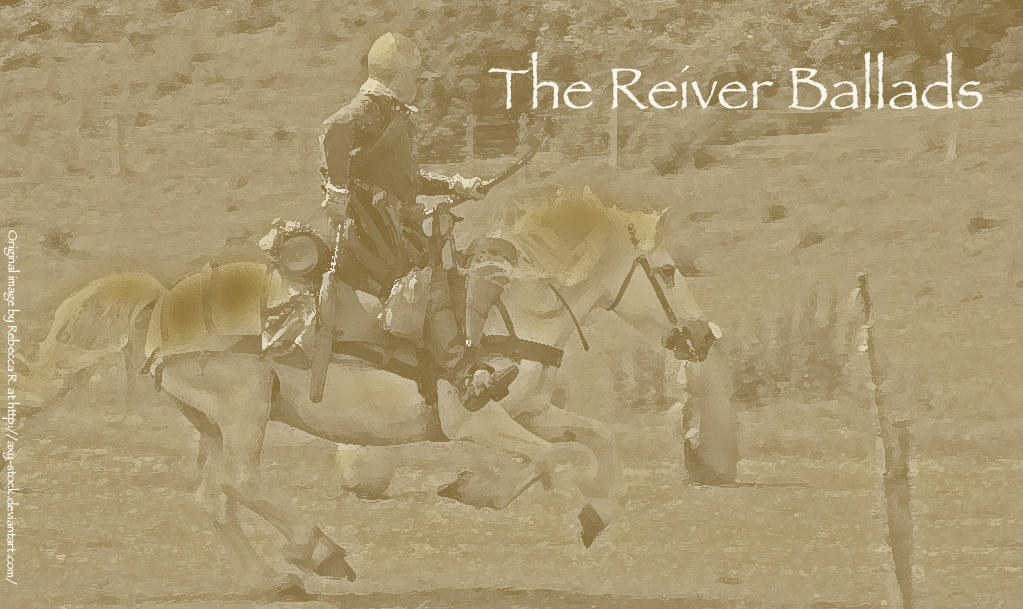 "Hobbie Noble"  appeared in the Minstrelsy from the 1st edition in 1802, and appears in all the editions covered by this project. It is the 11th ballad in the 1802 edition. It may be interesting to view it in conjunction with "Jock o' the Side".
History
The ballad character Hobbie Noble seems to have no historic parallel. Like  Jamie Telfer of the Fair Dodhead, Noble has been the subject of many literary discussions over the decades, although there have been less acrimonious discussions regarding Noble. Hobbie Noble may be viewed as an excellent example of an active, defiant, reiver ballad hero, stalwart and defiant to the end.
Where the ballad does touch on history is the use of an Englishman as a guide for Scottish raiders, who intend to ride into England, the location where the land-sergeant is based,
The Characters
Hobbie Noble
There were Nobles living on the Borders and for the most part, it would seem to be predominantly an English name, although there were some Scottish Nobles. However, there is no direct mention of a Hobie, Hobbe, or Hobbie Noble in relation to any event akin to the ballad narrative. Scott states that the character's name is a contraction of "Halbert", but Hob / Hobbe / Hobbie is most commonly a contraction of Robert or Robin.
At the end of 1583, Thomas Musgrave wrote to Lord Burghley, listing the principal families in the Borders, their marital links and who lived where. Musgrave noted that "within the Nyxons dwell the Nobles, Taylors, some of the Grames, and a fewe Storyes, and are hard by the howse of Bewcastell"  (CBP I p. 124). It is this list of Musgrave's that lists one Hobbe Noble. However, in 1596, in an "award" by John Forster, Nobles are listed as being " lawfull and leige subjectes of Scotland," (CBP II p. 111), but in 1597 an English jury verdict discussed listed a number of criminal issues, including a number of English Border felons and as well as naming specific individuals, such as "John Grame alias Jocke of Peirtre", 21 others are listed only through their surnames, and this includes Nobles. (CBP II p. 312).
The Use of Guides
Riders did not necessarily know the best ways to ride into what could be hostile territory, so guides were often used, by officers and also by reivers.
In 1593, Scrope complained to Burghley of the use of guides:
May 12th 1593 Scrope to Burghley

First.—It is conjectured that disorders and outrages arise both from the remissness of officers and watches, and by the servants of gentlemen heads of surnames, likewise by " trystes " and alliances between English and Scots, which " sortes of people (besides their owne filchereis)," it is thought guide the Scots on their day and night forays, sharing Englishmen's goods among them. Or at least suffer them to pass, without raising hue and cry, as they are bound to do by statute and old Border custom. What course should be taken in reformation is to be considered. (CBP II 458)
In  September 1595, Robert Carey wrote a report concerning the condition of the English Middle March to Burghley, noting that:
There are at least 10,000 Scots sheep fed within England, winter and summer, besides numbers of cattle, and any man who disturbs them is sure to be delivered by our warden.And the Scots already claim and enjoy 3 or 4 " meilse " of English ground, and will encroach further if suffered.The men of account (except 3 or 4 as above) have Scotsmen dwelling in their houses, who are chief guides for the spoil of the poor. (CBP II 57)
Sim of the Mains – Simon Armstrong of the Mains
The name Sim of the Mains appears in a tract known as Monipenny's List, which was first printed in 1597. He is listed as one of the Whitehaugh Armstrong men. The Mains lies to the north of Whithaugh. There is no extant historic evidence that any Simon Armstrong of the Mains was connected with any treachery.
There is a tale which relates that Sim of the Mains was also hanged at Carlisle, only a couple of months after the execution of Noble, but as this is recorded in books such as Chronicles of the Armstrongs, which quote the Minstrelsy verbatim without acknowledgement as a source, this can only be viewed as anecdotal.
"Peter of Whitfield his brother is dead"
Scott noted that he did not know who was meant by "The great Earl of Whitfield". However, in the 5th edition of 1833, the note was changed, as Scott had recieved more information regarding the manor of Whitfield.
There are two notable incidents involving Armstrongs and Whitfields in the Calendar of Border Papers. In January 1596/7, Nicholas Whitfield, bailiff of Hexham, was killed by a group of Armstrongs and Elliots. On 13th May 1599, John and Francis Whitfield were involved in a "fray" in Bewcastle. Francis escaped relatively unscathed, but John, a Queen's officer, suffered dreadful injuries. It was reported that his "bowells came out, but are sowed up agayne, and is though shall hardly escape, but as yet lyveth" (CBP II 605). This attack was made by Whithaugh Armstrongs and their men.
There is, however, nothing to link the ballad to these incidents.What they do show is that the Armstrongs and their men were prepared to confront and attack Border officials.
Anton Shiel
There are Shiels / Shevells / Shelles /  Shells /  Chaulls listed in the Calendar of Border Papers. The majority of these men appear to have lived on the English side of the Border, although some lived in Liddesdale and seem to have been aligned to the Elliots. There is no mention of any one Anton (Anthony) Shiel. Anton is the common variant used in the documents for the name of Anthony. However, the loss of sheep which the character of Anton Shiel suffers in the ballad has historic equivalents throughout the documents pertaining to the the Borders throughout the 1500s.
Places
Kershopefoot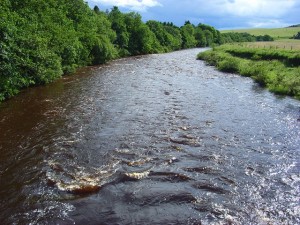 Kershopefoot was one of the traditional Border trysting spots. It was at Kershopefoot that Kinmont Willie attended a Wardens' meeting before he was captured. A letter contained in the Calendar of Border Papers, written by Henry, Lord Scrope (the English West March Warden) to Lord Burghley in 1581 notes the following:
I send your lordship a letter received this forenoon from the Laird of Cessford, showing the resolute direction he has received to insist on our meeting at "Gamelspeth." To which I have replied that neither myself nor deputy will seek redress there, being the meeting place for the Middle Marches, and never used by me for those eighteen years, or any of my predecessors – but shall be ready to meet at Kirsopfoote for justice on any convenient day. (CBP I 74)
Foulbogshiel
Foulbog  Sike lies high in Bewcastle. There are a number of ruined shieling buildings still visible above ground.
Askerton Castle
Askerton Castle was one of the  headquarters for the officers of the English Middle March. It is located in Gilsland, just on the border of Bewcastle. The Carlton and Musgrave families often held the official posts, but there was often simmering disputes between them. In 1585, Thomas Carlton was living there (he aided the rescuers of Will of Kinmont some 8 years later), and in 1592,  Edward Aglionby noted that "Upon the east side of Eaden lyeth the barronie of Gilsland under the government of a steward, who ought to ly att Askerton castle. In his charge is all the safety of that barronrie, without either help of warden or other, for that yt lyeth some what farre off"
Hartlie-burn, Willeva, Speir Edom, Roddrie Haugh, Conscouthart-green
Hartlie cleuch, Willowford, Spade Adam, Rothery Haugh, Scotchcoultard Waste
The locations mentioned in verses are all within the bounds of Bewcastle or Gilsland in Cumbria. They lie South of the Foulbog Sike, with Willeva (Willowford) and Hartlie Burn being the most Southern. These are all mapped on the online Minstrelsy map, accessible from the website.
Rickergate
This is an area in Carlisle, which is located near to the castle.
________________________________
Image attribution
The Liddel Water at Kershopefoot. The river is the boundary between England and Scotland
 © Copyright Andrew Smith and licensed for reuse under this Creative Commons Licence