Armstrong's Goodnight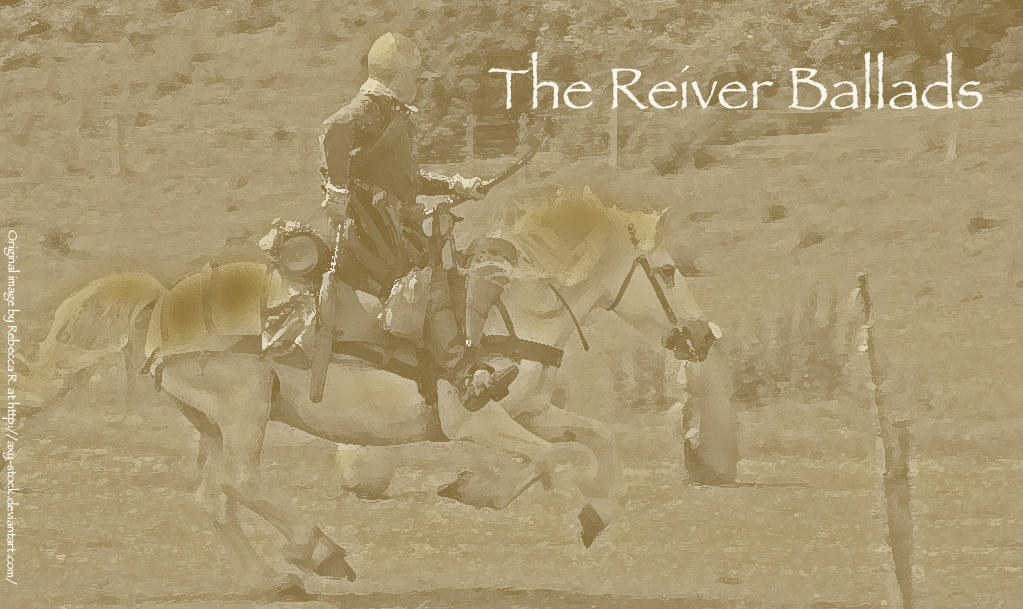 "Armstrong's Goodnight"  appeared in the Minstrelsy from the 1st edition in 1802, and appears in all the editions covered by this project. It is the 14th ballad in the 1802 edition.
History
In 1776, David Herd published two verses in his Ancient and Modern Scottish Songs, but offered no title for them. However, there are earlier variants of these verses, which appear on various broadsheets, such as that entitled "Goodnight and God Be With You All", which can be seen at the English Broadside Ballad Archive (EBBA), which dates from around 1700, although there are also earlier versions of the verses.
Scott may be the instigator in print of the tradition which associates these verses with the Armstrongs. He does not state where the tradition arose, or where he heard it from. He writes that the "following verses are said to have been composed by one of the Armstrongs, executed for the murder of Sir John Carmichael of Edrom, Warden of the Middle Marches" (Minstrelsy (1802)  183).
The death of Sir John Carmichael, described by the Bishop of Durham as "the most expert borderer", was treated with great gravity on both sides of the Border by his fellow Wardens and lawmen. It was Richard Lowther, who reported the incident to Robert Cecil, the English Secretary of State, reporting that "He that shote him was a sonne of Rynyon Armstrage callyd Thom. Ther they spoyled him, and from thence he was carred before a Scottesman on horsebacke to Lowmablen : he that carried  him was Wille Kange." (CBP II 662)
On June 23rd Richard Lowther wrote once more  to Cecil, informing him that "those wicked persons, his killers Sandys Rynyon with his sons and dependantes, have not only rydden within the baronie of Burgh (and from thence toke ten nagges), but also have associate themselves to an insolent company of Armstranges and Yrwyns, specially the Hollases and Kanges" (CBP II 662).
On August the 1st, 1600, Robert Carey noted that the  "Armstrongs that killed Sir John Carmichael, have got together broken men to the number of six or seven score: they spoil where they can, "England and Scotland is all one to them," and they feir no officers of either side … it is only Carmichael's friends they spoil, and it is thought those that murdered him had plotters behind them" (CBP II  674).
In April 1601, James Johnstone, the clerk of Richard Lowther copied a list of Scottish outlaws, and this included "The names of them that ys fugetyves for the slaughter of Sir John Carmichell late warden." Ninian Armstrang in Auchinbedrigg, with Thome, Hew, Lantie, Waltir, Archie, and Dand, his sons. Syme and Lantie Armstrangs of the Syde, 'Robs Sandy' Armstrong, [ ] Nickson, man to Sandy Inglish : 'lang' Sandy Armstrang in Rowanburne, Rob Scott, Thome Tayler called  'the Laird,' Will Grame of the Yaidfauld, and Will Foster, son to Rowie of the Bakstangill —all Englishmen. Jock and Umfray Bells, sons to Christell of the Ridge." (CBP II 743)
One Thomas Armstrong – identified as Sandy's Ringan's Tom within the Calendar of Border Papers, and a relation of Will Armstrong of Kinmont, was arrested for his major part in the murder, and executed in Edinburgh. Armstrong had his right hand cut off, then was  hanged, and his body gibbetted on the Burgh Muir of Edinburgh (the area now known as Bruntsfield Links in Edinburgh). Pitcairn's Ancient Criminal Trials, and includes an extract from Birrel's Diary, which noted that execution was carried out on 14th November 1600. Robert Birrel was an Edinburgh burgess, who kept a diary between the years of 1567 and 1605.
In 1602, Thomas Scrope noted that he had killed "Petti Armstrang, a notorious thief, outlaw, and murderer of Sir John Carmichael the warden" during the firing of an Armstrong Tower (CBP II 811), so there is evidence that the repercussions continued after the execution of  Ringan's Tom.
We do not know what tune Scott associated with these verses, and he himself states that he is unsure whether the words he prints "are the original", but a tune called "Goodnight and God Be With You All"  appears in the 17th Century Skene MS, and in 1700 a variant of that music, still entitled "Goodnight and God be With You All" was printed in Henry Playford's A Collection of Original Scotch-Tunes 
Background Information
From extant copies, the broadsheet song "Goodnight and God be with you all Or the Neighbours Farewel to his Friends", was first printed in the 17th century. It also appears in the Roxburghe Collection (Roxburghe 3.672), printed as a supplementary piece to "Love is the Cause of my Mourning". It is a four verse piece, with a single reply verse from the "Friends". The first two verses are given here from the Roxbughe copy, as means of comparison with Scott's two verses.
Now come is my departing time,
And here I may no longer stay
There is no Comerade of mine,
But will desire I were away,
But if that time will me permit,
Which from your Company doth call,
And me inforceth for to flit,
Good Night and God be with you all.
For here I grant some time I spent
In loving kind good Company,
For all Offences I repent,
And wisheth now forgotten be,
What I have done for want of wit
To Memory I'le not recall:
I hope ye are my Friends as yet,
Good Night and God be with your all.