The Gallant Grahams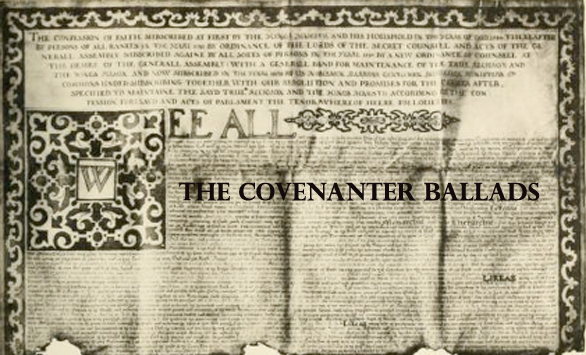 Scott first included this ballad in the 1803 edition. It functions as a balance to the pro-Covenanter ballads, and it is for this reason that we include it here.
Scott states that his version "is given from tradition, enlarged and corrected by an ancient printed edition, entitled " The Gallant Grahams of Scotland," to the tune of " I will away, and I will not tarry" of which Mr Ritson favoured the editor with an accurate copy" (MSB (1803) iii: 171)
The narrative of the ballad is more convoluted than many of the other Covenanter ballads in the Minstrelsy. From the opening verses, which lament the exile of the Grahams, it leaps to the "betrayal" of King Charles I (1647), back to the Battle of Aberdeen (1644), then and on to the battles of Inverlochy and Philiphaugh (both 1645). Montrose's exile of 1646 is referenced, and while it mentions that the "bold Aboyne" is to the sea", it does not mention his subsequent death in France. Montrose's return to Scotland in 1650 is also referenced – he arrived in Orkney with around 250 German mercenaries and joined up with an advanced guard of 200 Danish mercenaries.
Montrose's final battle at Carbisdale is referenced, along with the deaths of  Gilbert Menzies and many of the Danish mercenaries, although the number of then Danish dead is exaggerated in the ballad.  Archibald Strachan, Robert Hacket (Scott gives his first names as Sir Charles Hacket) and David Lesly (Leslie) represent as the enemy, "For ye have betrayed the gallant Grahams, / Who aye were true to Majestie" (verse 20).
The taking of Montrose and his subsequent execution in Edinburgh in 1650 is also presented, along with the execution of  George Gordon, 2nd Marquis of Huntly, and the execution of Charles I, who were both executed in 1649.
The ballad  ends on a slightly more positive note, referencing the return of Charles II as KIng.
History
As noted above, his ballad does not refer to one specific event, but instead is a lament for Montrose,  is supportive of Montrose and the Royalist side, and initially seems to be presented from a female narrator's perspective:
I have no gold, I have no land,
I have no pearl, nor precious stane;
But I wald sell my silken snood,
To see the gallant Grahams come hame (verse 3)
The valour and nobility of the Graham family is emphasised throughout, through the use of  partizan language and associative references. The Grahams are almost always referred to  as "gallant", there is a reference to  Sir John Graham who was a companion to Wallace, linking the Grahams to a another historical struggle, and  Montrose is given the epithets "chieftain bold" and "brave". The Grahams are portrayed as being supportive of their king.
The Battles
The ballad references actual battles and includes the names of notable individuals, mainly on the Royalist side.
The Battle of Aberdeen  (1644) 
With a force buoyed by the recent victory of the Battle of Tippermuir / Tibbermore on 1st September 1644, and the subsequent sack of Perth, Montrose set his sights on Dundee. He called on the burgh to surrender, but his offer was refused, and he realised that Dundee was too well defended to join battle there. He marched on to Aberdeen, with three Irish regiments and around 100 MAcDonald Highlanders – most of the other HIghlanders had left to return home with the booty they had plundered at Tibbermore. However, his numbers were boosted by mounted troops led by Nathaniel Gordon and Sir Thomas Ogilvy, who joined Montrose's forces outside Aberdeen. Robert, Lord Balfour of Burleigh had command of the Covenanting forces, and while they outnumbered Montrose's, they were not as battle hardy. The main battle took place on 13th September, when the Covenanters were defeated, broken by the ferocity of the Irish charge. Aberdeen was then subjected to a 3-day sack, murder and plunder, which Montrose seems to have done nothing to halt. Montrose then withdrew his forces, and moved further North, probably in response to intelligence of the approach of Argyll and a much large contingent of troops. Argyll and his Campbell levies did not reach the stricken burgh until the 19th September.
In Glen-Prosen we rendezvoused,
March'd to Glenshie by night and day,
And took the town of Aberdeen,
And met the Campbells in their array. (verse 10)
The two sides finally met at Fyvie, but Montrose would not be drawn into battle. Argyll had to withdraw to find feed for his cavalry's horses and Montrose made his way to Blair Atholl. Argyll marched to Edinburgh, convinced that the combination of oncoming winter and deserting Royalist troops would put paid to the Royalist cause: those troops may have been Highlanders returning home with their spoils, but who would return to fight with Montrose.
The Battle of Inverlochy (1645)
Five thousand men, in armour strong,
Did meet the gallant Grahams that day,
At Inverlochie where war began,
And, scarce two thousand men were they (verse 11)
This battle saw the wholesale slaughter of the Campbell troops by Alasdair MacColla's men. This had nothing to do with the then current Covenanting / Royalist, but was retribution for long-standing clan feuds. There were around 1000 clansmen from the MacDonalds, Camerons and the MacLeans, all eager to wreak revenge on the hated Campbells. They had first met with Campbell opposition at Inveraray, where the Campbells in the town had been put to the sword. At Inverlochy, it is estimated that Montrose and MacColla had around 1500 men, with the Covenanting force not numbering so many more.
The Battle of Philiphaugh (1645)
While this battle is not named in the ballad, the events which followed the route of Montrose's troops are mentioned, as are the names of some of the men who were killed, or who were subsequently executed. Verses 13 and 14 lament the deaths of notable men of the Royalist cause, namely Nathaniel Gordon, Leith of Harthill, Newton Gordon, Dalgatie and Veitch.
Montrose's Exile
The lament for the loss of the Grahams is repeated, and Montrose and Huntly's exile is referred to :
Now brave Montrose he went to France,
And to Germany, to gather fame
And bold Aboyne is to the sea,
Young Huntly is his noble name. (verse 16)
Scott notes that "James, Earl of Aboyne, who fled to France, and there died heart-broken" (MSB (1833) II: 192). He became "Young Huntly", ie the heir of the Gordons, after his brother George died at the Battle of Alford
The Battle of Carbisdale (1650)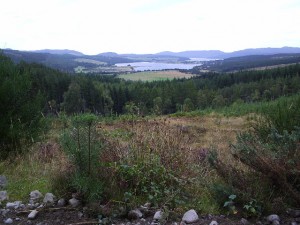 This was Montrose's last battle. His army was a combination of German and Danish mercenaries, along with Orcadian recruits and a troop of around 40 horse. What his army did not have was any notable Highland or clan contingent. Montrose may have expected to recruit from the Highland area, but there was little support for the Royalist cause: the same clans had seen many of their levies killed by the Royalist troops in 1645.
The Covenanting army had less men, but were most probably much more experienced overall. The Covenantier officer Strachan set an ambush, revealing only a troop of around 250 cavalry to Montrose's position. Montrose's troops left their well-defended camp to engage with the cavalry and the ambush was sprung. The inexperienced Orcadian troops ran when their own cavalry was forced back into their lines, and many of Montrose's men are believed to have drowned in their attempt to escape over the Kyle of Sutherland. The mercenaries dug themselves into a defensive block in nearby woods and fought off the Covenanting attacks until a troop of HIghlanders arrived to bolster the Covenanting numbers, whereupon the mercenaries surrendered.
Montrose's cavalry commander, Major Lisle died on the field. His commander, Sir John Hurry (or Urry), was captured and later executed in Edinburgh. Montrose escaped from the field and went on the run, but when he sought help from Neil Macleod of Assynt at Ardvreck Castle, he was betrayed. There is still a deal of controversy over this: the betrayal is often attributed to Neil Macleod's wife, Christine (or Christian), as Macleod himself was not at home at the time of Montrose's arrival.
Perhaps the greatest betrayal of Montrose was that by his King. Charles had written to Montrose, with an order to disarm, as formal negotiations with Covenanters had begun. However, the orders seemed never to have reached him. A few days after the Battle of Carbisdale, Charles disowned Montrose and his campaign under the terms of the Treaty of Breda, which was signed on 1st May 1650 in Breda, in the Netherlands. Montrose was executed in Edinburgh on 21st May of the same year
______________________________________________________________
You can read more about these battles here:
The Characters
The characters mentioned in this ballad have parallels with historical individuals. These are:
Nathaniel Gordon
Nathaniel Gordon was a staunch supporter of Montrose, but then seemed to abandon Montrose, and reconciled himself with the Covenanters, doing penance, as Scott states, for both adultery and the more heinous crime of having frightening a noted covenanting minister, Mr Andrew Cant. This all seems to have been a daring ruse to persuade Huntly's son to join the Royalist cause – an attempt which succeeded, with Gordon, along with young Huntly joining Montrose's force once more.
Nathaniel Gordon fought and was captured at Philiphaugh. He was tried and found guilty. He had his lands and goods made forfeit and was subsequently executed by beheading. The date given for his execution in St Andrews was 20 January 1646 at noon. The details of his forfeiture and execution may be read online, on the website of the Records of the Parliaments of Scotland.
Patrick Leith of Harthill
Patrick Leith of Harthill was a companion of Nathaniel Gordon and a fierce opponent of the Covenanters. He fought in many of Montrose's campaigns, but left Montrose's force to carry out guerrilla raids in the North of Scotland with the Marquis of Huntly. He was, however, captured a few days before Huntly, in the Covenanting raids led by Major-General Middleton, who served as David Leslie's second-in-command.
Patrick Leith of Harthill was executed in October 1647 in Edinburgh, a few days before the young Newton-Gordon. The execution is recorded in Ogilvy's translation of Menteith's The History of the Troubles of Great Britain (1738) and also in James Browne's History of the Highlands and the Highland Clans Vol II (1840).
His brother, John, was also a noted Royalist. However, he survived until around 1651. There are notable anecdotes about his violent and impulsive acts, especially when imprisoned. In some books, it is stated that John Leith of Harthill was executed in 1647, but he was still alive in 1649 and trying to secure his release from prison.
James Gordon, younger of Newton
Newton Gordon, the younger, fought with Montrose on several campaigns and was one of Huntly's personal friends. He was executed in Edinburgh 1647, captured in the same raid as Patrick Leith of Harthill, and executed around the same time as him.
Dalgatie
Although Scott notes that this refers to Sir Francis Hay. However, it is likely to have been Sir William Hay.
Sir William Hay of Dalgatie was a Catholic noble and therefore was in utter opposition to the Covenanting cause. He fought with Montrose's forces and was taken in the last battle at Carbisdale. Like many others, he was taken to Edinburgh for execution: Nicholl's Diary notes that Hay of Dalgatie was executed on the 7th June 1650, and that he was executed by the Maiden – that is, Edinburgh's own guillotine. After the Restoration, like Montrose, his body exhumed and given an honourable burial in St Giles. John Nicholl also made note of this ceremony in his Diary.
Veitch
Scott believed that "gallant Veitch' was probably David Veitch, brother to John Veitch of Dawyck. He was captured after Philiphaugh and presumably imprisoned. He was in Sanquhar tolbooth in 1653, when he caused two parties of English Parliamentary troops to attack each other (MSB (1833) II: 191).
Sir Gilbert Menzies
Sir Gilbert Menzies was one of Montrose's men who fell at Carbisdale. His death is recorded in Menteith's The History of the Troubles of Great Britain, in an account which gives a hint of the desperate last battle of the Royalist cause:
The Engagement was both sharp and bloody. Montrose had his Horse shot under him; and young Menzies of Pitfoddels, who carry'd the Royal Standard, with Major Guthry, were kill'd close by him. (Menteith 1738: 511)
His death is also recorded in the Memoirs of Montrose:
By his side were killed his devoted friend Thomas Ogilvy of Powrie, young Menzies of Pitfoddels, who died obstinately defending the royal standard, John Douglas, youngest son of the Earl of Morton, and about a dozen other gallant gentlemen (Memoirs of Montrose (1856) II:745)
Lesly
This refers to the Covenanter Sir David Leslie, who received the captive Montrose, and had orders to parade him on the journey South to Edinburgh. This sounds humiliating, and was intended to be so, but in a time before effective media, it was also a way to ensure that as many people as possible could see that Montrose was indeed captive.
You can read accounts of Sir David Leslie online, on the site of the Oxford Dictionary of National Biography.
You can log into the ODNB via local libraires or through academic institutions.
You can also read about Sir David Leslie on the British Civil Wars site. This is a private site, but is extremely informative.
Strachan
Sir Archibald Strachan had the command of the Covenanter army at Carbisdale, and through effective tactics utterly routes Montrose's forces.
You can read accounts of Archibald Strachan online, on the site of the Oxford Dictionary of National Biography.
You can log into the ODNB via local libraires or through academic institutions.
You can also read about him on the British Civil Wars site. This is a private site, but is extremely informative.
Hacket
Scott identifies this individual as Sir Charles Hacket. However, it is more likely that the ballad is referring to Lieutenant Colonel Robert Hacket, who had command of one of the troops of Covenanter cavalry at Carbisdale.
Huntly
George Gordon, 2nd Marquis of Huntly was executed for taking up arms for Charles I. He was executed in Edinburgh on 22nd March 1649.
You can read accounts of Huntly online, on the site of the Oxford Dictionary of National Biography.
You can log into the ODNB via local libraires or through academic institutions.
You can also read about him on the British Civil Wars site. This is a private site, but is extremely informative.
The second son of Sir George Gordon, 2nd Marquis of Huntly was James Gordon, 2nd Viscount Aboyne. After Philiphaugh, he went into exile to france, where he died. There are conflicting accounts of his death. Some state that he died of an ague, but others claim he dropped dead after hearing about the execution of Charles I. He had inherited the title of Viscount after his brother died at the Battle of Alford.
______________________________________________________
Image of Carbisdale:
  © Copyright Donald Bain and
licensed for reuse under this Creative Commons Licence.