Home
Welcome to the Minstrelsy of the Scottish Border education site.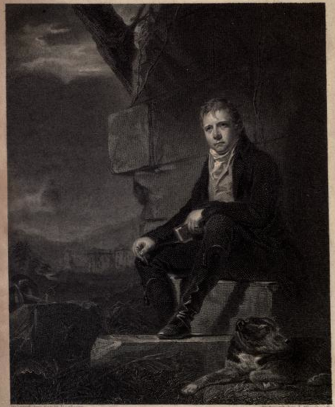 Sir Walter Scott was one of the best-selling authors of the nineteenth century: it is estimated that he sold somewhere in the range of half a million titles – and in a time when the likes of social media, radio and television could not even be conceived of, that was an impressive feat.
The first edition of the Minstrelsy of the Scottish Border is accepted as his literary debut – and what a debut it was: first published in 1802 in two volumes, the second edition – now expanded into three volumes – followed in 1803, and other editions followed in 1806, 1810 and 1812. Scott continued to work on the content through the years, adding ballads, as well as refining his notes and comments – when Scott found out some new piece of information, he wanted to share it with his readership. This means that every one of these editions are not merely reprints, they have additional information and / or material.
Our focus is on the ballads Scott included in the Minstrelsy and the people involved in collecting them. You can find out about ballads in general, the Minstrelsy ballads, their plots and the characters which appear in them on this site. Where appropriate, we have included links to other sites, such as the University of Edinburgh's Sir Walter Scott digital archive, which provides a comprehensive biography, information about his other works, E-texts and more. Other links provide access to other sites and pages, which contain biographies, texts and other information regarding sources, history and other supporting materials, which should help provide an integrated and engaging overview of the Minstrelsy ballads.
We intend this site to be of interest to teachers, students and individuals interested in  Sir Walter Scott, the Minstrelsy of the Scottish Border, and the ballads it contains. This site does not reflect the entire research and critical content of the forthcoming 2014 edition of the Minstrelsy of the Scottish Border. You can find the texts of the 1802, 1803, 1806 and 1833 editions which the Minstrelsy project is concerned with online, or in many public libraries.
We have constructed a Google-based map of the locations mentioned in the ballads chosen for the site, as well as those locations important to the publication of the Minstrelsy. In addition, as well as providing links to archive recordings, a Spotify Playlist of commercial recording of ballads which have versions in the Minstresly, which individuals who are not familiar with archive recording may find more accessible.
Please access the Resource Page for details regarding sources and supporting materials.